The changing face of employer workplace pensions
The first half of 2020 has seen huge change in the way we live our lives in the UK, with changes in the way we shop, travel and work. Alongside these changes we are seeing a continuation of the revolution in our retirement plans, in particular our defined contribution pension plans. The fifteenth edition of the FTSE 350 DC pension scheme survey from Willis Towers Watson sheds light on these changes.
Employers continue to review their delivery vehicles – the demise of single employer trust schemes
Since their introduction, DC master trusts have gained huge ground, with the majority of employers with schemes established under trust in the FTSE250 now using a master trust. Within the FTSE100 the picture is a little different with about a third of employers with schemes established under trust using a master trust. But what does the future hold? The need to control costs, particularly in a post COVID world, together with the need of greater depth of resources and the growing realisation that operating a pension scheme is not a core function of most UK businesses are key drivers to look for an outsourced solution (indeed these are the same reason many organisations outsource services to specialises like IT, security, facilities etc).

In the next two years it is likely that one in three single employer trust schemes will be reviewed. Given this rate it is quite possible that the predominant form of scheme established under trust in the FTSE100 will be master trusts.
It's not just about helping employees save for retirement….
We have seen a massive shift in the way that members draw their retirement savings. The freedom to draw DC monies flexibly was a true revolution within retirement savings and as demand grows from members, schemes need to rise to the retirement challenge.  Nor surprisingly then that the majority of respondents to our survey from single employer trust schemes in the FTSE100 indicated they were likely to enhance their at retirement support.  Perhaps the biggest challenge is providing access to a drawdown solution which some schemes find unattractive to provide within the scheme and look for a partner such as LifeSight to offer members a smooth pathway to drawdown.
…and moving to apps and web-based engagement is critical
The first half of the year has seen a massive change in how we shop, with a growth in home delivery and internet shopping. We come to expect on demand online services in all aspects of our lives and our survey reveals that outsourced solutions particularly master trusts lead the way in providing both web and app-based access for members. However, it is not common place and across a range of features only a minority of schemes provide both web and app access.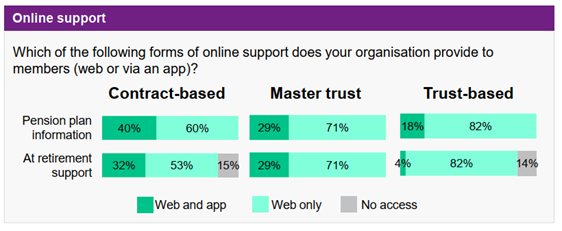 Source: WTW FTSE 350 DC Pension Survey 2020
So what next?
The next two years will see the revolution in DC schemes continue with probably an increased pace following the pandemic. The growth in master trusts such as LifeSight to serve both the full service market and to partner with trust-based schemes to deliver seamless drawdown is here to stay.