70% of Irish workers want more help from their employer to manage their finances
4 in 10 Irish employees live payday-to-payday and half of them say money concerns keep them from doing the best at their job.
Dublin 01 September 2020 – As we return to the new normal in the post COVID-19 world we are presented with some key opportunities as well as threats to our financial wellbeing. Perhaps we are thinking of saving for that rainy day, addressing risks to our financial wellbeing or taking stock of the adequacy of our retirement savings. Our 2019/2020 Global Benefits Attitudes Survey identifies a number of key areas where Employers can help educate Employees on their financial wellbeing. Later in this article we'll reference the potential support Willis Towers Watson can offer to help Employers identify what you need, for example virtual financial wellness training, retirement adequacy tools and also 'eCard' engagement prompts for your Employees.
All considered, the current COVID-19 situation should not change employers overall financial wellbeing strategy. What it should change is how employers think about the short-term action you need to take to support your priorities and people.
Willis Towers Watson completed our 2019/2020 Global Benefits Attitudes Survey prior to the impact of COVID19. The results however are likely to be as relevant as ever and maybe even more so, with COVID-19 likely to have a major global financial effect on work forces, business and how we live our lives.
In our survey, we found that two-in-five (40%) Irish employees say they are living payday-to-payday and have no emergency savings, and nearly a third (31%) of them have financial problems that are negatively affecting their lives. These results were according to our survey results from 752 Irish employees between July and September 2019.
The 2019 Financial Wellbeing Report, part of the Global Benefits Attitudes Survey, also found that, of the Irish employees living payday to payday, 40% were suffering from anxiety, 65% say the amount of debt impacts their quality of life, 58% say it strained their family relations and 46% say it kept them from doing their best at their jobs. Our survey found low financial literacy and avoiding dealing with finances were worse with employees who are struggling, compared to unworried workers who tended to have high financial literacy and didn't avoid dealing with financial matters.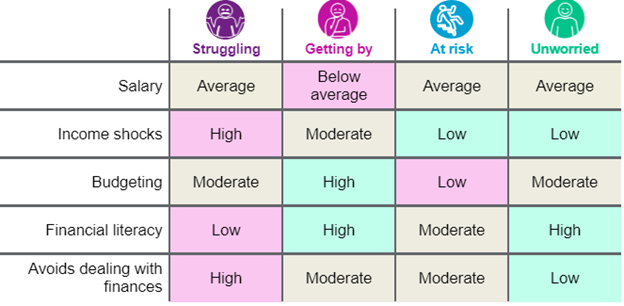 Our survey found that the role employers can play in helping employees manage their finances is increasingly important, particularly among younger workers. 68% of the employees surveyed think that their employer should be providing tools to help improve their finances and over half of employees trust their employers' tools more than those found online. These tools can be for example access to an advisor, suitable savings and investment products or employer sponsored tools that help manage/track savings.
Financial wellbeing, health and stress are interconnected and the issues compound. As you can see below, financial and health wellness are interconnected where struggling employees get less sleep, exercise less, have poorer eating habits, and smoke & drink more.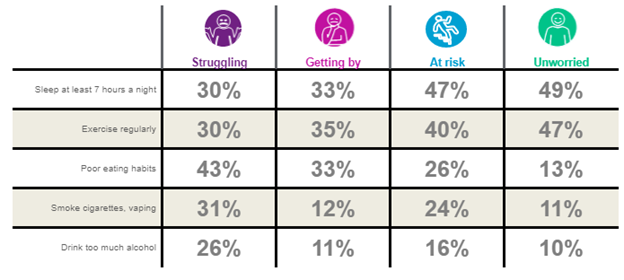 53% of struggling employees would move to another employer if they could get a 5% to 10% pay rise, compared to 29% of unworried employees. Interestingly both struggling and unworried employees would have average salaries, so higher salaries are potentially not the only driver.
Employers have an increasingly important role to play
Employers have an increasingly important role to play in helping employees to manage their finances by providing tools that provide guidance on how employees can improve their financial situation. This research shows the differing needs of employees, where workers who are less financially literate and clearly looking at their employer to help them in this area, for example through virtual financial wellness training or access to an advisor.
Interestingly employees are looking for their employers to offer tools rather than financial assistance with 70% of young single employees looking for tools (as outlined above) compared to 36% looking for financial assistance, this difference is more pronounced in two parent families (68% tools vs 26% financial assistance).
The trust that certain groups of employees have in their employer should provide encouragement for further progress in this area. However, employers should still be sensitive to the fact that there are some employees who may find their involvement in personal finance matters intrusive.
Willis Towers Watson and LifeSight
Willis Towers Watson has developed a number of tools to help educate employees on their financial wellbeing, whether it be through virtual financial wellness training, retirement adequacy tools and ecard prompted engagement.
Our LifeSight product encompasses all our best thinking in respect of financial wellness, active/responsive member engagement and market leading communication material.
Additional resources
Feeling stuck, with so much to focus on? Find support
As we have discussed, the outcome of our Global Benefits Attitudes Survey shows how financial wellness education and tools are key to employee retention, employee health, job satisfaction, etc.
With the impact of COVID-19 on business, employers are more stretched than ever. Time to prioritize financial wellness is passing. Why not see how we can help you quickly get a handle on what you have to tackle now and what might be coming your way in employee financial wellness. The right approach is going to be different for every company. Why not contact me to help, where I can assist with tools to review your employee's financial wellbeing and help you find gaps in your suite.
Jonathan Kerr BA AIIPM, Associate Director
Direct + 353 (0) 1 614 6802
Mobile + 353 (0) 87 220 0993
Email : jonathan.kerr@willistowerswatson.com
Other notable findings from the Financial Wellbeing report include:
Top three financial priorities for employees:
50% of 'financially struggling' employees say money concerns keep them from doing the best at their job.
70% of employees are saving less for retirement than they think they should
67% would be willing to contribute more from their monthly pay for a more generous retirement benefit – up from 53% in 2015.
Two-thirds think that their generation will be worse off in retirement than their parents and that state benefits will be less generous when they retire
About the Global Benefits Attitudes Survey
The Willis Towers Watson 2019/2020 Global Benefits Attitudes Survey measured attitudes of over 40,000 employees at medium and large private sector employees in 27 countries. A total of 752 Irish workers participated in the survey, which was conducted between July and September 2019.